Kreg Universal Bench System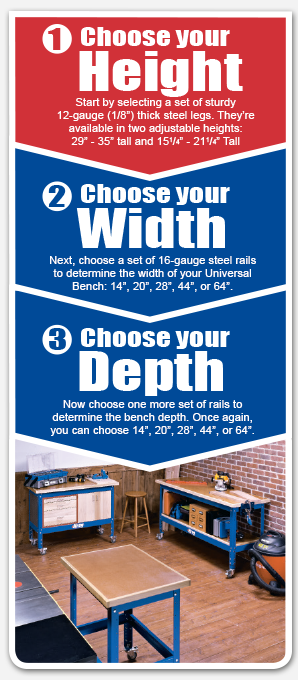 Kreg Universal Bench System - 30 POSSIBLE CONFIGURATIONS!
The Universal Bench is a system of rails and adjustable height legs that are available in multiple sizes. By combining legs & rails you can create a customized workbench, tool stand, outfeed table, or assembly stand in 15 possible sizes from 14" x 14" up to 64" x 64" - and two different adjustable heights to fit your space, project and your needs.
HOW TO CHOOSE YOUR BENCH:
1. CHOOSE YOUR HEIGHT: 12-gauge (1/8" thick) steel legs available in two adjustable heights (1): 29" - 35" tall, or (2): 15 1/4" - 21-1/4" tall
2. CHOOSE YOUR WIDTH: pick a set of 16-gauge steel rails to determine width of your Universal Bench: 14", 20", 28", 44", or 64"
3. CHOOSE YOUR DEPTH: now choose one more set of rails to determine the bench depth. Once again you can choose: 14", 20", 28", 44", or 64"
To complete your Universal Bench just add a bench top made from material of your choice, and then outfit your bench with custom accessories! Have a question? Give us a call at 877-777-4717 or send us a message.